In recognition of the 'spooky season' of Autumn, we want to highlight some of the 'scary species' that can be found in the Fraser Watershed to help us get in the mood for Halloween! 👻
Little Brown Bat
The little brown bat, or little brown myotis, is a small mammal that can catch an astonishing 600 mosquitoes in one hour! Did you know that bats are the only mammal capable of true flight?
The scariest part about little brown bats is that they are listed as an endangered in Canada's Species at Risk Act and are threatened by disease, pesticides, and deforestation. This bat species is particularly being impacted by white-nose syndrome, a fungal disease that affects hibernating bats and almost always leads to death. White nose syndrome is rapidly spreading across North America but has not reached British Columbia yet. Residents are being asked to report any sightings of both flying or dead bats to the Community Bat Program.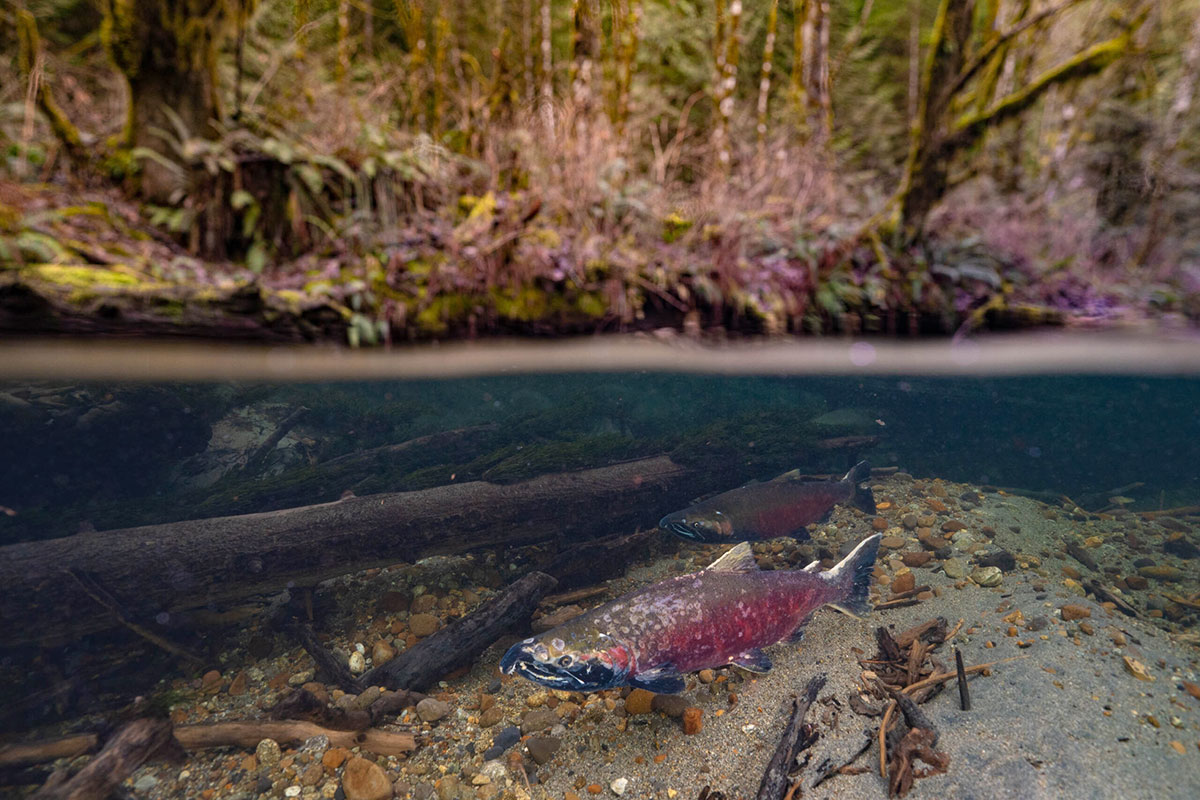 'Zombie' Salmon
The journey from the saltwater of the ocean to freshwater rivers is extremely challenging for salmon. Migration and spawning consumes all of their energy and leaves them scarred. Many salmon will die within a few days of spawning, but others will live for weeks as their bodies and organs begin to deteriorate and rot. These nearly dead salmon are commonly nicknamed "zombie salmon."
Sturgeon
Is that a monster? No, it's a white sturgeon, the largest and longest-lived species of freshwater fish in North America! This incredible fish can grow to 6 metres and live for over 150 years. Aside from the ghost-like visual as they swim by, the scariest thing about the population of white sturgeon in the Lower Fraser River is that they have been assessed as threatened and are currently in the process of being listed in the federal Species at Risk Act. Loss of habitat, water quality and pollution are some of the issues impacting white sturgeon populations. Learn more and sign the pledge to help protect prime spawning habitat in the Lower Fraser at the Heart of the Fraser website.
Fishing Spider
Did you know that there are more than 900 spider species that can be found in BC? The six-spotted fishing spider is one of them and can be identified by a pale stripe running along each side of their grey or brown-coloured bodies. These creepy crawlers are semi-aquatic and can be found near ponds, lake shores, and slow-moving tributaries. They prey on invertebrate insects and tadpoles, and are able to catch fish five times their size! The six-spotted fishing spider uses venom to immobilize and kill their prey.
Lampreys
While lampreys may look like a terrifying alien from a scary space movie, they are actually jawless, anadromous eel-like fish. The western river lamprey (Lampetra ayresii) is typically found in the lower portions of large riversheds, like the Fraser Watershed. These slithery fish are born in freshwater and eventually migrate to estuaries and coastal waters for feeding. They are predatory and feed on herring, salmon, and other fish by attaching to their prey with their fanged, sucker-like mouth. In larvae stage, lampreys are filter feeders and help improve the water quality in river systems.
While these species may be creepy, they are all important parts of a functioning Fraser River ecosystem. Join the movement to help protect and restore the Fraser Watershed at the bottom of this page.