Keely Weget-Whitney's Rivershed Story
"Under a haze of wildfire smoke and with her ancestors watching from above, Keely Weget-Whitney steps into the frigid and fast-moving waters of the Fraser River with one goal in mind: make people care. Join the 25-year-old St'at'imc and Gitxsan Nation woman as she embarks on a 60 kilometre swim to bring awareness to the depleting number of wild salmon and its impacts on her culture and the environment. "I just feel that if I care, a young Indigenous mother, people will reflect on that, and they'll say why am I not caring, what can I do for a change?" As she battles the strong current and her own self doubt, Keely encourages us all to come together to make change."
Keely Weget-Whitney is a graduate of the Rivershed Society of BC's 2011 Sustainable Living Leadership Program (SLLP).  On Sunday, August 6th, 2017, Keely Weget-Whitney swam the Fraser River from Lillooet to the Stein River. The film (For the Love of Salmon) tells Keely's story.
Filmed and produce by Jan Vozenilek of Copper Sky Productions.
Would you like to screen the film at your event? Please contact us to set up a screening.
Screenings
April 5 2020 | Elements Film Festival | Vancouver, BC
March 19, 2020 | World Water Day: The Heart of the Fraser | Victoria, BC
February 22, 2020 | Fernie Mountain Film Festival | Fernie, BC
November 21, 2019 | Morrison Creek Streamkeepers AGM | Comox Valley, BC
October 25-27, 2019 | Friday Harbour Film Festival | San Juan Island, WA, USA
June 27, 2019 | Watertown Film Festival | Watertown, MA, USA
June 10, 2019 | Vancouver Festival of Ocean Films | Nanaimo, BC
June 5&6, 2019 | Vancouver Festival of Ocean Films | Vancouver, BC
May 18, 2019 | Meadowlark Nature Festival | Penticton, BC
May, 2019 | Garifuna International Indigenous Film Festival | Los Angeles, CA, USA
March 20, 2019 | Water Docs Film Festival | Toronto, ON
March 17, 2019 | Environmental Film Festival in the Nation's Capital | DC, WA, USA
March 7, 2019 | Kamloops Film Festival | Kamloops, BC
March 2, 2019 | World Community Film Festival | Kelowna, BC
February 7, 2019 | Dam Short Film Festival | Boulder City, NV, USA
January 18, 2019 | Wild and Scenic Film Festival | Nevada City, CA, USA
October 25, 2018 | Planet in Focus | Toronto, ON
September 21, 2018 | Rivers Day events | TBD
N/A | Elevation Indie Film Awards | Dublin, Ireland
August 31, 2018 | Cinemuskoka | Muskoka, ON
August 24, 2018 | Moonrise Film Festival | Wells, BC
August 22, 2018 | SLLP Alumni Reunion | Yale, BC
August 20, 2018 | FraserFEST Tuckkwiowhum Community Dinner | Boston Bar, BC
July 14, 2018 | Okanagan Indie Film Fest | Kelowna, BC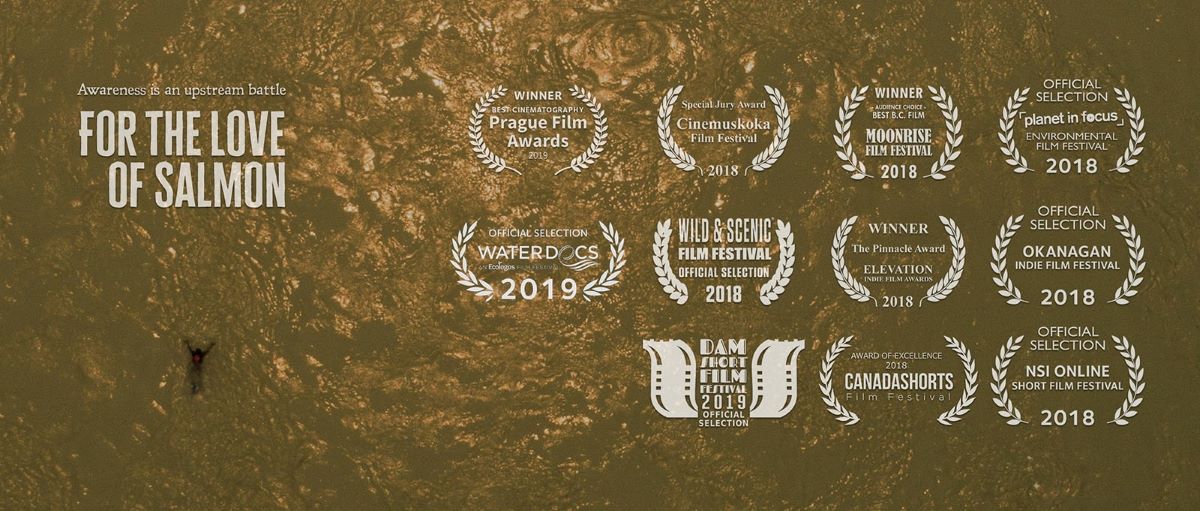 Awards
The Best Cinematographer Award – Prague Film Awards – Prague, Czech Republic

The Pinnacle Award: Short Film – Elevation Indie Film Awards – Dublin, Ireland
"Amazing scenic vistas."
"An important interesting story brought to life by skilled directing"
Audience Choice Award for Best BC Film – Moonrise Film Festival – Wells, BC
Special Jury Award – Cinemuskoka – Muskoka, ON